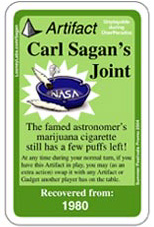 Smoke more pot, says Kirsten Dunst
Spider Man actress Kirsten Dunst believes the world would be a "better place" if more people smoked marijuana:
"...My best friend Sasha's dad was Carl Sagan, the astronomer. He was the biggest pot smoker in the world and he was a genius."

Wow! Something like a quote right out of
Cheech and Chong
, "Carl Sagan smoked pot, and HE'S NOT SO STUPID!". Good old Carl influences the world in so many ways.